Which one to choose Magento or Shopify?
MAGENTO VS SHOPIFY
all
magento
shopify
Originally Published on: Aug. 24, 2022
Last Updated on: Aug. 25, 2022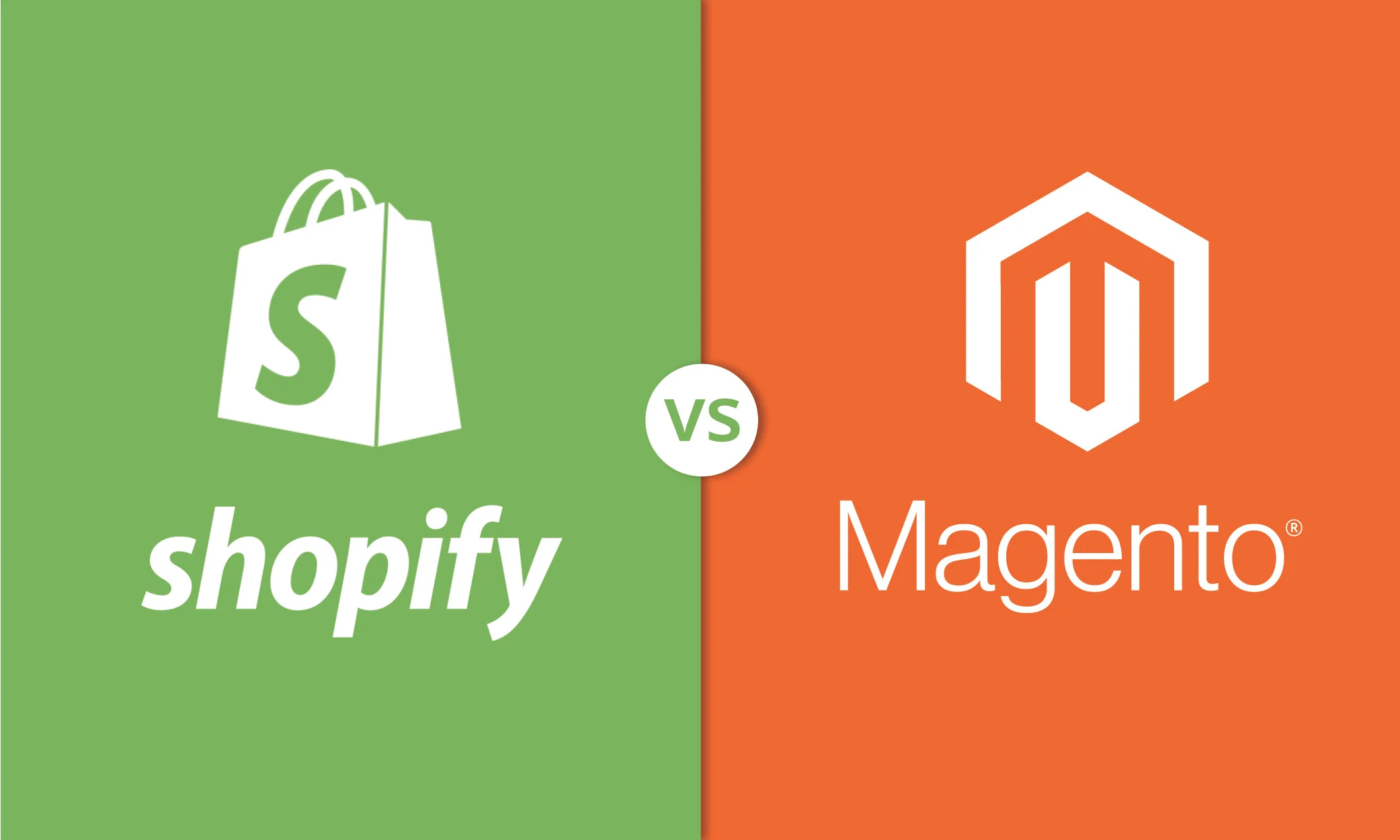 MAGENTO VS SHOPIFY
Are you setting up a brand new online store or considering switching from Shopify? We've done our analysis to convince you why Magento is the best choice in your store's eCommerce.
MAGENTO'S LIMITLESS POSSIBILITIES
A positive customer experience is essential in the present market. Customers want to purchase experiences, not items. With a flexible platform, it is possible to customize the user experience and please your customers. Do not choose a venue for commerce which restricts your creative options.
Magento's open source approach offers unlimited possibilities for modification, whereas Shopify is limited in what can be changed.
Magento
The flexible and open platform that can rapidly bring new ideas to the market
A distinctive customer experience can set your company apart
Modules are pre-integrated to be activated by a single click (payments, taxes, shipping, and payment)
More than 3,600 premium extensions have been vetted to help store owners quickly increase their capabilities
The global network of developers and partners offers additional tools and resources
Shopify
Created as a standard set of templates
An undifferentiated customer experience
Limits on extensibility and integration with third-party solutions
The smaller number of developers and partners, with limited support for global expansion
"Shopify's platform does not have the sophisticated features needed by large companies. Features like DOMsupport, compatibility with more complex online and physical products, multi-brand and multi-site advanced and predictive analytics logistics and fulfilment, integration APIs, and personalization are either non-existent or weak ."
2017 Gartner MQ for eCommerce Software
FUTURE GROWTH
Don't let your commerce platform limit your future growth. Select the forum that best meets the needs of your business and customers' requirements starting from Day One. The Magento extension is supported by an extensive network of partners and developers constantly creating new and improved offerings.
Shopify Plus lacks vital features such as omnichannel and order management capabilities, Wholesale functions and support for complicated digital and digital goods, advanced analytics, and BI.
Magento
The platform is infinitely customizable - there are virtually no limits to features or functions.
Merchants are in complete control of their Magento environment
Many different third-party solutions available for integration
Digital tools are integrated to enhance the experience of customers
Engineered to meet the needs of B2B, either B2C or B2B, or both your business needs
Shopify
Required by Shopify Plus to make an upgrade costly Shopify Plus plans
The features required by significant and growing companies aren't available.
A few large, global corporations utilize Shopify. Shopify
Incapable of managing the complex nature of B2B transactions, workflows, templates and apps
Engineered to work with B2C However, not B2B
Magento powers 315,000 websites across the globe, including 70 companies listed on the Internet Retailer Top B2C eCommerce 500 list and 40 businesses on the B2B list of Internet Retailer's eCommerce 300 listing.
Shopify is the powerhouse behind ten Internet Retailer Top 500 companies.
PERFORMANCE
To provide excellent customer service 24/7, you need a robust, reliable, reliable, and scalable platform. Finding out the actual cost of services isn't always easy and involves several variables which impact the costs associated with partners and fees. Any modification or deviation from Shopify's default templates will result in extra costs for customization and installation. Magento Commerce now includes enhanced tools for managing content, allowing users to modify their content quickly.
Magento
Cloud infrastructure and Cloud services worldwide provide 99.99 per cent operational uptime.
The site is deployed wherever your business is located.
Magento Commerce runs on Amazon Web Services (AWS)
Merchants have complete control over their Magento environments
The most powerful business tools can help enormous, complex, more complicated stores help businesses save time and increase agility
Shopify
Multi-tenant technology means that the high traffic volume to another merchant's store could affect the store's efficiency.
Limits the exchange of data between its main app and the add-ons applications.
Significantly slows down the performance of your website during peak traffic periods.
The technology stack is tightly locked, which leaves merchants without a method to manage, monitor or improve site performance.
This requires more customized coding and additional costs
Limits on attributes for products and catalogue size are a concern for massive and complex sets of products or unique selling demands
SUPPORT
Magento offers support whenever you require it. If you need help creating, maintaining or expanding your experience in the world of commerce, There are a variety of possibilities Magento can help you.
Magento
A vast global community of Solution Partners
Solution Partners are available and willing to assist you at any point of your digital journey
more than 260,000 designers across the globe assist with projects of all kinds
Shopify
A small community of partners situated mainly within North America
Experience with implementing less successful the commerce experience and offering merchant services
The language it uses is proprietary. The liquid it leaves behind only a small pool of developers to assist with projects
MAJOR FEATURES SHOPIFY IS MISSING OUT OF THE BOX
STAGING
AND PREVIEW
FLEXIBLE PRICING RULES, COUPONS, PROMOTIONS
DRAG AND DROP VISUAL MERCHANDISING TOOLS
MULTI-SITE/STORE MANAGEMENT UNDER A SINGLE ACCOUNT
STORE CREDIT
SUPPORTING B2C AND B2B SELLING MODELS
MULTI-CURRENCY SUPPORT DEPENDS ON THE PAYMENT GATEWAY PROVIDER
DETAILED PERMISSIONS AND LOGGING
START ESTIMATING
YOUR PROJECT
Let us know about your company, and we'll develop a customized plan to upgrade, improve and enhance your website.