22 Web Design and Development Trends for the Year 2022
Get ready for 2022 with these web trends
Web Design
UI/UX
2022
Trends
Originally Published on: Aug. 25, 2021
Last Updated on: Aug. 3, 2022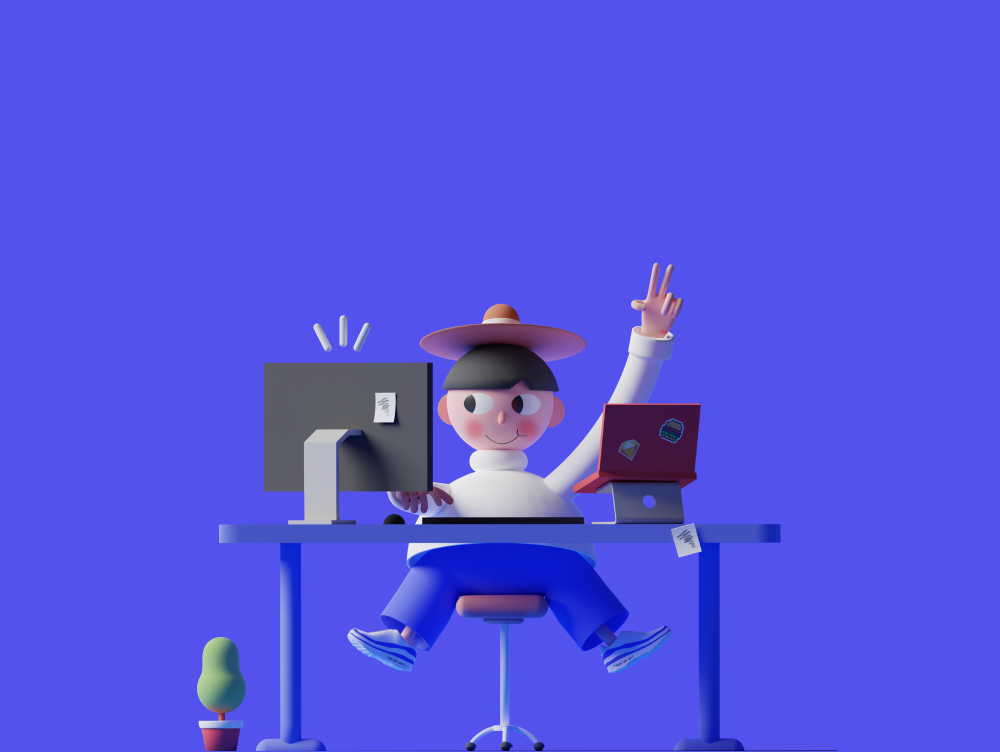 22 Modern & Best Web design trends for 2022
Speaking about the year 2020, it was indeed a horrible one for online and offline businesses. People suffered huge losses mentally, financially and even most of the online businesses came to a standstill. However, we are here despite all the hardships and as enthusiasts of web designs, the innovation seems to be never-ending. In this fresh and exciting article, we have got you 22 web design trends for the year 2022 that you will love to the absolute.
Indeed, Web design trends are like water that keeps flowing and benefits tons of online marketers and users. Also, there will be some trends which you will find marvelous so do keep an eye on those trends as well.
Keeping each thing into consideration, come along as we unwrap the best of all trends of web design for the year 2022.
Here are the top 22 Modern trends for web design that will make the year 2022 a lot innovative and brighter.
1. Parallax scroll animations
Speaking about the No 1 web design trends will bring the Parallax scroll animations into the limelight.
Yes, these have been in trends since 2020 and the same thing is in continuation. With effective parallax scroll animations, you can bring your illustrations to life. Yes, each movement in these effects is smaller and is within the bounds for producing a much smoother animation.
Also, while using Parallax scroll animations, make sure to keep the effects to a minimum. If you can keep each thing considerably minimum, then Parallax scroll animation can make any illustration look better and modern.
2. Retro Fonts
Moving ahead towards the next Web design trends, retro fonts are the ones that caught our eye. Indeed, we have seen tons of things come to life from old age and retro fonts are definitely one of them.
One thing you got to know is that retro fonts aren't those boring fonts and you will love using each of the fonts. It offers a unique and retro design to your graphic that can attract the target audience, to the absolute limits.
Plus, you can do a few customizations in Retro fonts to make them look better and a lot more appealing.
3. Horizontal Scrolling
Previously known as the web design faux-pas, Horizontal scrolling has come a really long way. Currently, there are plenty of web designers who are using Horizontal scrolling and are benefiting from the same.
If you are a designer, then you got to keep into consideration the following things of Horizontal Scrolling:
Don't force and navigate through the horizontal content

Make use of clearer visual cues for indicating where content makes use of horizontal scroll

Be very thoughtful about the content that will benefit from horizontal scroll

Avoid doing Horizontal scrolling for the content that users will read
If you can keep the above points in consideration, then you can easily make use of Horizontal scrolling, the best way.
4. Multimedia Experiences
With most of the generation having direct access to multimedia in different forms, the level of experiences has reached to skies. Every now and then, the level of multimedia experiences is increasing and people are enjoying consuming the content online.
In terms of the successful designs, each of them will use constraints with multimedia experiences such as:
Make sure to prioritize simplicity when you are combining audio with motion. Too much from each of them can create a distraction and ruin the multimedia experience.

Utilize different media formats as a way for maximizing the accessibility of contents

Make sure to include closed captions along with transcripts for better viewer understanding

Ensure that each text is made in HTML format rather than just put inside the images
Overall, using multimedia comes with a level of responsibility for addressing different factors. So use the same wisely to bear fruitful results.
5. Using 3D visuals
Going ahead in Web design trends, 3D visuals are something that will run for decades. With the innovation of higher resolution screens, the growth of 3D visuals has been on an exponential scale. Yes, we are seeing different higher-quality 3D visuals seamlessly integrated into web designs. They look stunning and have even attracted tons of users over the internet.
Instead of creating distractions, 3D visuals actually add up to the aura of designs and make them look more realistic.
Plus, if you can learn to use 3D visuals effectively, they can make a much bigger impression and can grow your business, the long way.
6. Augmented Reality (AR)
With the advent of technologies and revolutions, Augmented reality is something that has boomed over the last few years. People are enjoying the augmented reality experience and this thing is just going bigger and bigger with each passing year.
Additionally, there are plenty of newer technologies such as WebXR API that have opened up endless opportunities. Plus, plenty of car manufacturers are using AI that can help users select their choice of vehicles.
Overall, one thing we can say is that it's just the beginning of AR and lots of innovations are yet to come.
7. Using Grainy Textures
Going ahead among the best Web design trends for 2022, using grainy textures is something that can bring a revolution to the current graphic industry.
Different rigid grids along with flatter bocks of solid color can ruin the overall look of any design.
On the other hand, if you can use grainy textures, they give a lot more natural feel, on an overall basis.
Even now, there are plenty of websites that are using grainy textures and each of them has enhanced the overall designs.
With grainy textures, images look a lot more natural and you can even customize the images, as per your liking and needs.
Therefore, you can perform different customizations using grainy textures and innovative designs, to the next level.
8. Use Muted Colours
Among the best and better Web design trends, using Muted colors is something that will never ever fade away. Similar to grains, muted colors can offer a more natural look and feel to any design.
Most of the time, designers make use of light muted colors that give them a good and decent overall look and feel.
Each of the muted colors is perfect for backdrop designs, styled text, and illustrations.
Also, in the background, there's a little type of buzzy grain along with distortion of some kind. With Muted colors, you can certainly lower down that distortion, in the best possible way.
9. Design on the basis of preference
Over the past few years, the web development industry has taken a giant stride, and still, the industry is booming at a faster pace. This can be almost anything right from bringing the dark mode or improving the overall appearance of any page or app.
In such a scenario, designing on the basis of the client's preference is something that will be in trend for the ahead years. Customers like to be asked and if you can build or even design things based on their preference, then you can go much far in such a scenario.
Plus, you can even offer custom content or even different things that the clients will love to the core.
10. Gaussian Blur
Indeed, among the top Web design trends, Gaussian Blur is something that offers a soft and swirls focus to gradients and images.
The effect has been around for a while but recently it has started to gain more prominent space in web design.
With a Gaussian Blur background, you can create a much modern and premium-looking web page. Also, you even have the power to customer that background in things you like. Overall, with Gaussian Blur, it's all up to you in the way of handling customizations.
You can try different styles and choose the ones suitable for different websites.
11. Scrollytelling
Over the years, we have seen the trend of designers telling stories through each of their web experiences. This is the place where Scrollytelling can help you tons. With the help of visual scrollytelling, you can heighten up the story and make things narrative.
Now, in terms of the best applications, they restrain:
Allowing motions within a smaller area
Provide different interactions on using terms such as playback controls along with motions
Make sure that any type of scrolling elements help in emphasizing the story other than distracting the essential text.
With that, if you can use Scrollytelling, the effective way, then you can gain some of the best popularity and clients, over the period of time.
12. Dark Mode
The dark mode is something that's one of the hottest web design trends for 2022 and even beyond. In a world where mobile light is harmful, Dark mode is actually protecting user eyes to the best possible extent.
With perfect black on websites or even smartphones, users are actually loving to use smartphones.
Hence, as a designer, you can try out different shades of black on websites along with applications.
See which of those are perfect ones, apply and use different customization based on customer's preference.
13. Illustration of Cartoons
Long ago, there were times when websites just had text along with very few images along with graphics.
Over the years, web designing has evolved where designers are creating work that connects with people at a deeper level.
Yes, Cartoon illustrations are something that has gained popularity over the years. They have transformed websites with a dash of humanity which people are finding a lot attractive.
Plus, different online sources are present from where you can find better design illustrations.
14. Geometric Grids
Moving ahead towards Grids, they are simple but comes with lots of flexibility. Yes, they have the power to be easily integrated into designs, the best ever way. Also, different geometric grids are gaining immense traction for structuring layouts with a bold and cleaner look.
Plus, the squares are fun to navigate and grids can be used to create amazing designs, of user preference.
Additionally, for a bit light touch, you will even get an arrangement of squares along with crisp lines too.
With that, you can use Geometric Grids to perfection and create designs, the best possible way.
15. Custom Cursors
Yes, even Custom Cursors are among the best Web design trends you can see in 2022 and beyond. Cursors are among those tools that are overlooked in the space of web designing. Whenever any designer takes a website and turns that into something spectacular, that's an achievement.
With that, the use of Custom cursors can be something you can try out as a designer. Yes, it looks cool and can make your client's website stand apart from the competitors.
With the help of the pen tool, you can use the circular cursor and draw animations as per your liking and preferences.
Also, you can even check out the morphing circular cursor which can change the appearance depending on the design element.
16. Scrolling Cards
Now, Scrolling cards are among those better features that can make the website experience, a lot better than usual. In such a case, if you can use scrolling cards to perfection, they can become an integral part of overall design sections.
Whether you are scrolling horizontally or even vertically, scrolling cards add snappy action to the overall website.
Plus, they are a better way for presenting information that can look presentable and attractive at the same time.
For example, you can browse different websites online that deliver scrolling cards to a level of perfection.
Keeping each of the things into consideration, you can try scrolling cards on your own and see which one works the best for you.
17. Colour-less Design
Indeed, for the people who are simple enthusiasts of web design, color-less designs are the ones that can be a better bet.
Yes, in this scenario, there are clients that love simple and minimal color designs. It does create a premium look on websites whereas designers, your work will be to create a website according to that.
Additionally, these types of designs do make use of white space along with the hover effect. With the same, designers have to be a lot careful in choosing white and balancing it with black color.
18. Audio
Offering audio is among the most integral part of designing. It does remove away the accessibility barriers for people who are visually impaired. Plus, it even benefits a major chunk of people who always prefer to listen to texts instead of reading the same.
Plus, as a designer, you have the license to add different language audio options for different people. This will improve the authenticity of the website and will allow people to listen to text instead of reading each of them.
19. Web driven by Print
With the advancement of digital technology, web driven by print is a trend that is growing at a faster pace. Also, the popularity of vinyl albums is true proof that people are willing to experience something different.
Further, each of the layouts that get their inspiration from different print fulfills people's desire for connecting with the real world.
Additionally, different magazine-style layouts along with elements of divergent graphic design offer a link to experience print on paper.
20. Design Systems for the right consistency
Design systems are one of the most powerful ones that can create repeatable layouts, without issues. Yes, it's easier for making updates or even edits at your convenience. Plus, you can even create duplicate websites at a faster pace.
Whether the websites are visualized on a smaller scale or bigger one, each of them is useful for managing and creating designs.
21. No Code
Moving ahead in Web design trends, No Code doesn't actually mean zero code. Each of the programmers along with developers is important for the industry. But, No Code implies opening up areas of expertise for those who would be exempt. It even enables everyone with an idea or the vision to create something new.
Plus, with no code, designers get the chance to become front-end developers. On the other hand, writers even get a chance to become web designers, as per their very own liking. This removes the dividing lines between each person and the work is done in a seamless way.
22. Designs with Dimension and Depth
Last but not least, designs with depth along with dimensions are something most important. Every passing day, designing with utmost precision is rising and designers are looking at each of the dimensions along with depth.
Plus, there are various tools available online that web designers can use in creating designs that can be appealing to clients.
After which, they can customize those designs and make them look appealing to the users.
Final Word of Mouth
Scrolling at the ending phase of the article, the top 22 Web design trends are all available here. If you are an aspiring web designer, you can look at the above trends and catch up on them, as soon as possible.
On the other hand, as clients, your job will be to analyze the above trends and see which one will be a better one for you.
Then, you can include those trends in your website and attract your target audience, the best and never known way.