How to Use Illustrations like a Pro
Use Illustrations like a Pro: Power of Branding
UI/UX
Web Design
Illustrations
3D Illustrations
Originally Published on: Aug. 25, 2021
Last Updated on: Aug. 3, 2022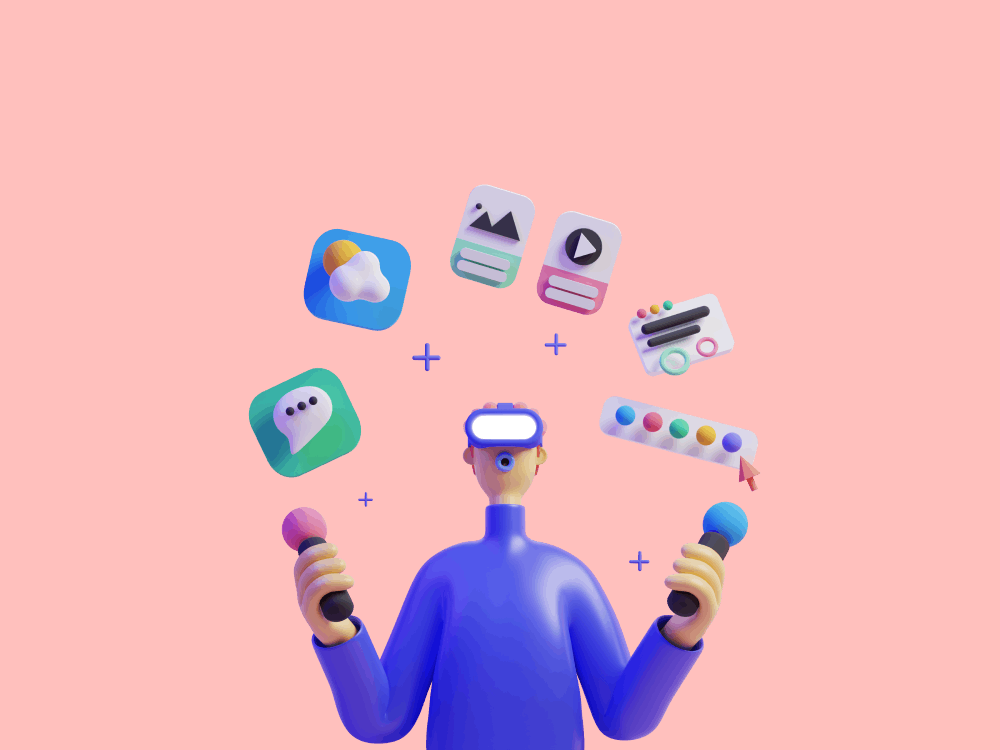 Use Illustrations like a Pro: Power of Branding
In simple terms, Illustrations are one of the better means in illustrating a particular message to the users. Particularly used in web design, illustration helps in offering visual representation or an example of what has been shared. Further, if you are someone who is eager to use Illustrations like a pro, we have got you some of the best stuff right in this article.
On the other hand, if you are using illustration to add up to your website, you can use it to the fullest potential for creating attractive messages.
These things will help you get the most out of illustrations, every single time. Currently, let's go ahead and explore a different aspect of Illustrations, in a much deeper way.
For any business, branding is something that is used for creating an emotional message that can transcend the overall value of the product. There are plenty of businesses online that are using the power of branding and selling millions of their products all over the globe.
Therefore, you cannot really underestimate branding and you got to know how to use branding for your business benefit.
Whenever you create a site, you got to give that website a visual representation. Any website needs to give a representation of a brand for clients. That is the way that will allow customers to connect with the client's brand, in a better way.
Plus, whenever any viewer lands on a website that should be a memorable experience for the each user.
In such a scenario, if you can use Illustrations like a pro, it helps create a memorable website. It will give the website a sense of uniqueness which will separate that website from others.
Further, whether you are using eye-catching graphics or even vector designs, the site will stand out from the competition, the best ever way.
Visual Appealing
Going ahead to use Illustrations like a pro, visual appeal is something that is most useful in website designing. Whenever a website uses visual appeal, it can attract customers to the absolute level of potential.
Plus, there are ample companies that use stock photos for adding levels of the graphic element to the websites.
However, one thing you must know is that stock photos aren't unique and are not created according to any brand.
With the same, your website can lose its identity and can fade in the background slowly with time.
In such a case, you need some of those elements that can spark up the entire look and feel of your website.
With the same, your website can stand out from competitors in a much better way.
Additionally, with the help of different illustrations, you can create some of the better and unique designs. Each of your designs can tell a story that can help elevate your brand business to some new extent.
Plus, some websites make use of illustration storyboards along with different slideshows. Here, you can use those websites and effectively put across a message that can be appealing to the viewers and clients.
Further, whenever any illustration tells a story, it can eventually share the story of a brand, the better way. It can even add up to people's lives, deliver services and even meet every user's needs.
Also, there's an original story that can add up to people's lives and the one to which people can relate to.
Overall, any sort of original and human story can help viewers connect with the story, a better way.
A true example of the same is WWF Website. On the overall, website, you will see colorful images in the form of divergent slide shows. Additionally, instead of using statistics and words, WWF gives customers a clear message in the form of representations.
With that, you can even try out illustrations of your type and look for the ones that can create an emotional connection with you and the company.
Illustrations add on to different Interest
Moving ahead to use Illustrations like a pro, you got to know that they add on to different levels of interest. Plus, there are different long messages which can be difficult to understand at different levels.
Keeping such things into consideration, using illustrations can be fruitful and one of the better ways for attracting the attention of users.
On the other hand, you can even add your personal branding message using illustrations. If you want to be a master at illustrations, using personal messages in the illustration is something, you must learn to do.
Plus, you create unique illustrations, combine them with an image and create brilliant vector messages, within a short span of time.
Make use of different styles
Almost all of the websites rely on hierarchical order for communicating the essential messages. In such a scenario, you can use Illustrations like a pro by including different styles for illustrations.
Yes, using different styles, you can draw attention towards navigation buttons or even call to action.
Plus, each of these is an element of your website that you can include for standing out from the crowd.
Additionally, the creation of contrast can help you in designing elements that can stand out from the rest.
If your illustrations are heavy enough, then you can create the user interface with the help of sharp edges. Further, if any of the illustrations are monochromatic, you can make use of design for creating bright along with colored navigation with calls and buttons.
Illustrations that can be used for creating Themes
Different types of illustrations can be used for creating some of the better themes for the website. This can mean including images along with mountains along with lakes for nature-driven companies.
Or else, you can use architectural illustrations for building the design and look of a company.
Going ahead to use Illustrations like a pro, you can use it for the identification of a company's location. In simpler words, the company can make use of illustration and make it one of the highly used features of the rest.
Plus, it even helps in creating a unique image for any good company.
Mascots
Moving ahead to use Illustrations like a pro, using Mascots can be a big boost to overall website design. Mascots do offer friendly approachable character to the overall brand image. There are ample brands available online which has got Mascots that help the brand in lifting overall value.
Plus, Mascots does help in identifying and giving a true personality to the website. In such a case, you can use a character or even draw one for the clients in order to gain traction and value.
Also, this thing will even offer a 'human element to the brand and will make things memorable.
Illustrative Decoration
Adding up to the use of Illustrations, they can be used for decoration of website where it can offer style along with framework.
However, in this scenario, the overall goal is not to represent a person, product, or even a place. But, the goal is to offer a sense of structure along with different styles.
Overall, each of the styles does help the website in connecting with the audience. Most often, simple drawings are the way to go where you can use well-chosen colors which adds aesthetics to the entire website.
A Take on Illustrative Text
Creation of text out-of-hand rendering is a type of skill that you can master and use the same as an opportunity. This is among the best and quality ways to design and even style a website as per the client's convenience.
This is among the better ways for representing your art school experience. Also, hand-rendered types are often used with a purpose. Any of creative website can make use of different illustrated text for demonstrating talent in arts.
With the same, you can easily make use of illustrative text for creating some of the best and high-quality illustrations, from scratch.
Keep Things Simple
Simple has always been better and the same thing implies to illustrations as well. There can be times when even complex designs can fail over the period of time. But, when it comes to simplicity, these designs can run for years as we have seen online.
Therefore, to use Illustrations like a pro, you can create eye-catchy images that can inform each of your readers about the newly launch service or a product.
With this, you can try out on simple designs, make them, and present in front of your clients, in a better way.
Make sure to Keep Illustrations Informative
Going ahead towards the last part, keeping illustrations informative is something you got to follow.
There have been plenty of the failed illustrations that haven't been informative from any end. In such scenarios, if you want clients to live your illustrations, you got to keep them at least a bit of informative.
Plus, each of those illustrations can be used to share a message to each of your potential clients.
Also, Illustrations can be used with purpose where whenever you are designing a website, you must ask yourself certain questions. Here, you can ask why you need illustrations and what purpose they will serve in the overall website.
With such things, you can visualize the entire concept and they can actually help you to create much better illustrations.
Additionally, you can even plan each of your designs before incorporating those into websites. In these cases, you can make use of a pen along with paper and first map out each of the good designs.
This will help you in creating a list of ideas that you can use on each of your illustrations.
After which, you can draw on different ideas and find some of the better inspirational images. Also, you can explore graphic design galleries and even take down notes on such types of things.
Wrapping Things Up
There is no doubt that illustrations do add up to a layer of uniqueness to your overall website. Plus, they even add personality and uplifts the brand image to some considerable extent.
Basically, to use Illustrations like a pro, your goal as a web designer must be to gather as many ideas as possible. Once you have a list of ideas, then you can make use of them and create illustrations, a better way.
Plus, you got to keep a clear level of differentiation between the elements of illustrations. Each thing has to be perfect and if you can design illustrations that way, then the road is much clearer for you.
On top of that, you can even assist your clients with illustrations and let them choose a better idea. Yes, things do take time and no one becomes a pro in a day. if you can stick to the basics right, then you can easily proceed ahead, create some of the best illustrations and make massive money, in the brighter future.